Today we chat to RED HOT American MILF Sedona Reign and here is what this sexy MILF had to share with us all here at Sport HQ and our readers.
Q1. What name would you like us to refer to you as? Sedona Reign
Q2. Where are you from? I was born in California in the Bay Area.
Q3. Age? 47. Yes, I said that number. Ha! I'm proud of it and I don't look my age.
Q4. Do you have any tattoos, and if so how many hours have you put into them? No, I don't have any tattoos.
Q5. Any piercings? Yes, I have a navel piercing and a clit piercing. My ears are pierced too. I love piercings!
Q6. How did you get your started in the industry? I was working at a Deja Vu gentlemen's club in Seattle, and Asa Akira was the feature for that night. She had three security guards, and I asked if I could talk to her. They led me into a room where she was getting ready, and I could chat with her for a while about the industry. She has such a sweet spirit! She gave me the courage to apply, and the rest is history.
Q7. How long have you been in the business? I've been dancing in clubs since I was 29. I was curious about mainstream porn. I would see the featured dancers that came through our clubs. They looked like they were having fun. So I decided to get my feet wet with my first scene for Score in 2019. It was a blast! I felt like a princess, and it was a totally professional environment. That is when I started looking for an agent.
Q8. What are some of your previous projects? Brazzers' "MILFs fuckit list," Naughty America VR's "Pleasure Party," Penthouse "Sex Therapy," Anal Mom/MYLF "Steps to Anal," Pervcity, and Sweet Sinner's MILF Pact 5. I did an awesome scene with Rachael Cavalli in "A Swapping Plan" for Mom Swap/ MYLF. That was a fun shoot day!
Q9. Do you have any upcoming projects? I have an Evil Angel anal scene upcoming with Ramon Nomar. I was in euphoric heaven during that scene, and Pat Myers is a phenomenal director. I have another Brazzers scene that includes a foot fetish with Nade Nasty. I also have a G/G scene with Madi Collins and a G/G/G scene with Lolly Dames and Mina Lux by Mike Quazar for Sweetheart Video coming out soon. Mike is another superbly talented director! I'm currently working on a scene for Reality Kings, "MILF Catches Cheating Bride," so be on the lookout for some hawt content coming!
Q10. What type of music do you listen to and who is your favourite band or artist? I listen to all kinds of music, so deciding on one is tricky. RUSH is an all-time favorite, and I'm a Jewel and Dave Mathews Band fan.
Q11. Do you have any hobbies? Yes, I have a 400g saltwater reef tank with corals and fish. It's been a hobby since I was 12, and I finally have my dream tank. I love to cook, garden, and hit the gym. In the future, I would love to learn how to scuba dive and go to the Maldives and swim with the fish and stingrays!

Q12. Are you into video games? My kids are! Hahaha! Everyone around me is, but I'd rather watch a movie or go out on an adventure.
Q13. Favourite sports and who is your favourite team or sports person? Football, and I'm a 49ers fan!! My son is autistic, and he loves the Niners! I've always been a fan of Joe Montana. My son got me his jersey one Christmas.
Q14. Favourite type of movie and favourite all-time movie? Anything with Jerry Lewis. I was just watching "The Big Mouth." He was so talented. A classic that I love is "Big Trouble in Little China" and "The Princess Bride."
Q15. Favourite type of food and favourite meal? I love pizza! And I am addicted to Indian food! Lamb biriyani and tiki masala are my favorites! Indian food is my total go-to comfort food. And who doesn't love lobster ???? and ???? steak.
Q16. Favourite alcoholic drink? I don't drink anymore. I tend to overindulge. Lol! But my favorites were Mai Tais, Margaritas, and Crown & Coke.
Q17. Your No.1 inspiration in life? "Be courageous. Challenge orthodoxy. Stand up for what you believe in. When you are in your rocking chair talking to your grandchildren many years from now, be sure you have a good story to tell."
— Amal Clooney
To not have regrets. To live my life to the fullest and to be an inspiration to others. And for others to see the light inside me and say there's just something different about you.
Q18. Measurements? 32G-27-37
Q19. Craziest, wildest or kinkiest place you've ever had sex? In a parking garage with my husband out in the open. I know cameras were capturing that moment, but I didn't care!
Q20. Do you prefer to make love or f**k? I prefer to make love but when you are in a rush a quick f**k is wonderful!
Q21. Favourite sexual position? Missionary! Yep, the classic position. I'm in the most relaxed position for me and orgasm hard. Doggy is fun too!
Q22. An interesting or unusual fact about you? I'm a shy person. I'm not an introvert. I love talking to my fans. Yes, it's unbelievable for my work, but I get anxious in crowds and sometimes need a quiet break to recharge. I also have a difficult time saying some words. It's annoying, and sometimes I feel like a dumb blonde. Lol!
Q23. What are your social media accounts? I have IG @thesedonareign and Twitter @sedonareign. I also have a website www.sedonareign.com
I have a VIP account on OnlyFans, which is a great place to get to know me and see my content: @sedonareign
I also recently opened a SextPanther account @SedonaReign
If you are on Pornhub, follow and like my videos on @sedona-reign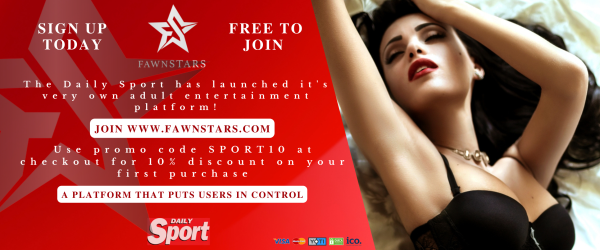 Midweek 5 Minutes With is brought to you in association with FAWNSTARS.COM the content platform that puts the user first.