Today Sport Readers we chat to Sport Babe Rico and here is what she had to share with us all here at Sport HQ.
Q1. What name would you like us to refer to you as? RiCo
Q2. Where are you from? Scottish highlander living in Manchester
Q3. Age? 33
Q4. Do you have any tattoos, and if so how many hours have you put into them? Days of tattoos! Sleeve, back and other 'bits'
Q5. Any piercings? 11
Q6. How did you get your started in the industry? I did a shift in a skimpy miners bar in Australia and was offered a paid modelling gig that night.
Q7. How long have you been in the business? Briefly aged 21 then took 10 years out and came back for round 2 18 months ago.
Q8. What are some of your previous projects? Fighting industry f**kery, one dickhead at a time ???????????? I've been shooting all over the country, run my own content hub @asx_official, and am the UK team leader for @twisted_angels_models
Q9. Do you have any upcoming projects? I'm about to set off for Arizona on the 16th Aug to tour with the twisted angels! And looking forward to my first shot at the UK Glamour awards in November in London
Q10. What type of music do you listen to and who is your favourite band or artist? I'm a glam rocker through and through! Tommy Lee, motley crue ????
Q11. Do you have any hobbies? I'm a grafter. 2 jobs and a single mum. Shooting is a hobby I'm lucky enough to get paid for!
Q12. Are you into video games? No sir!
Q13. Favourite sports and who is your favourite team or sports person? BKB… cheeky wee crush on James Connelly ????
Q14. Favourite type of movie and favourite all-time movie? Almost Famous! Anything relating to the classic rockers!
Q15. Favourite type of food and favourite meal? Ooodles of noodles! I love oriental food!

Q16. Favourite alcoholic drink? Im boy a drinker! Mad enough without it! ????
Q17. Your No.1 inspiration in life? Music! Music inspires absolutely everything I do or create. And the people that make great music! In absolute awe!
Q18. Measurements? Tiny! 5ft 34/29/33
Q19. Craziest, wildest or kinkiest place you've ever had sex? Irrelevant ???? try again
Q20. Do you prefer to make love or f**k? I'm a lover, not a fucker
Q21. Favourite sexual position? Next question ????
Q22. An interesting or unusual fact about you? I've lived at 36 addresses in 33 years!
Q23. What are your social media accounts? Fb – Rio Corlett insta – rico_asx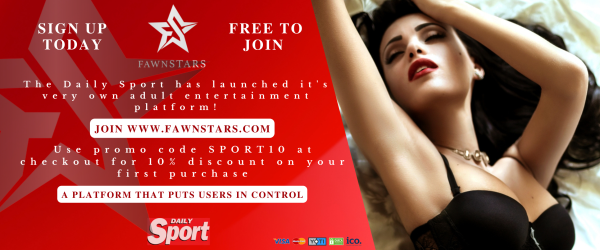 Midweek 5 Minutes With is brought to you in association with FAWNSTARS.COM the content platform that puts the user first.